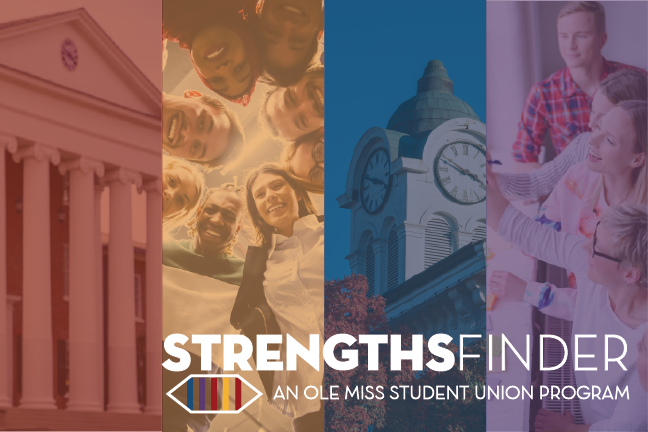 What is StrengthsFinder?
The CliftonStrengths Assessment reframes leadership by giving you the tools to develop your natural skills, rather than "fixing" areas of weakness. For more than 50 years, CliftonStrengths has guided millions of people in discovering what they do best. Strengthsfinder identifies your top talents and leads you through a self-directed journey of growth defined by your own unique strengths. At the University of Mississippi, we are here to guide you through your own Strengths journey. Our certified Strengths coaches offer a range of individual and team resources to help you identify, invest, and apply your talents in your various roles on campus and in the community.
Discover your Strengths
Start your Strengths journey by signing up for an individual consultation or a group workshop! Our office will provide you and your team a CliftonStrengths Code at retail cost to be included in your session. Workshop and consultation information is included below–please review each option carefully before completing a registration form. We are happy to answer any questions or direct your to the option that best fits your needs. For additional information, please e-mail strengths@olemiss.edu or contact Haley Anderson at (662)915-1044.